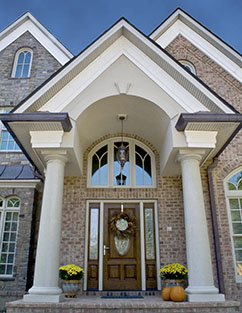 Custom Build Home
We can build a custom home that supports every aspect of your lifestyle, whether it be single level living, tailor made kitchens, mud rooms that meet the demand of daily living and so much more.  We have a time tested four step initial process that provides the home buyer with a clear and concise understanding of all the details of their custom build home, prior to making the final commitment.
Step 1. Education: An educated client will yield the happiest and most satisfied client. Our first step is focused on four aspects of the building process.
Floor Plan Design – How the design sets the tone to the over all cost of the home. The first step in managing costs per square foot.
Development Costs- What the client needs to know about cost breakdowns, and definitions and answers to questions regarding septic, well, county requirements, engineering as well as driveways and utilities.
Construction Methods- Many homeowners need help with how to build a home as much as what to build. Construction methods can vary and can create a wide spectrum of costs. It is important for the buyer to be aware of the options.
Finish Materials – What do we want to have in our home and how does it effect the overall costs, look and feel.
Step 2. Design Consultation: Questions often asked are " How do I create a plan that fits my life style and budget? Can I adjust a current plan, create a new plan from scratch, or blend two plans together? "Yes!" Whatever the clients idea or needs are we take them and formalize it to a drawing that is to scale and quantifiable. A service we offer at no cost to the client for the first two plan meetings. Once you can see your home starting to come to fruition you can than decide to move towards final plans – which will yield the most accurate price.
Step3. Finish and Build To: "How do I want my home built? What do I want my home built out of?" We have found that only after consulting with our clients on these question can we present a price that will meet their expectations. This appointment is key to a building process that is positive and expectations are met.
Step 4. Final Pricing and Plans: That great comfort our clients feel when they have completed their four-step process is:
They know all the details of the floor plan and have made choices that meet their lifestyle.
They have been educated to the construction methods and have made the choices that make the most sense for them.
They are keenly aware of what they will get in a Foreman Home.
They will have a price to build and have establish a relationship!
We offer two architectural galleries that offer 100+ plans to choose from. Please click the links/images below to view the plans.

What our clients are saying…
Thank you so much for your prompt and professional service. It's rare in this world and always appreciated.

Danny and Retha
We just want to thank you for the beautiful job you and your crew have done for us. This was a wonderful experience! Working with you has been a delight.

Randy and Mary
We asked Foreman Builders to replace our kitchen cabinets and countertops. We were please with the reasonable quote and were referred to a supplier. The work was completed in a timely manner and we were completely satisfied with the results. It was a pleasure to work with Tony Foreman's crew. Thank you for a job well done.

Roger and Coral